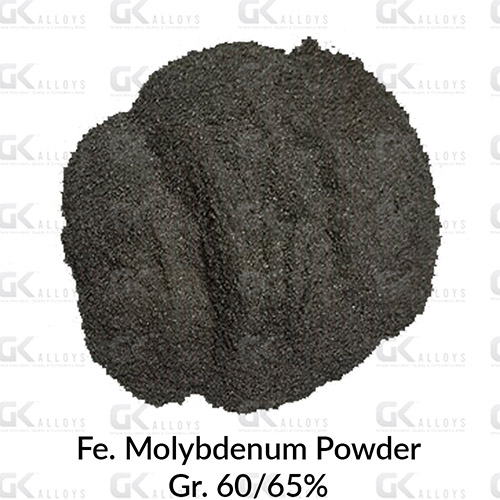 Ferro Molybdenum Powder is a fine powdered mixture of highly pure earthly elements such as iron and molybdenum that are added in appropriate amounts. It can be used in various alloying applications to enhance the hardening properties and thermal properties of various materials. This substance also improves the weldability, corrosion resistance and machining capabilities of alloys to which it is added. Buy from us this metallized powder with a supply capacity of 350 kilograms per month.

G K Min Met Alloys Co are the most clean Ferro Molybdenum Powder Manufacturers in Vadodara. Ferro molybdenum powder is a special kind of powder made from two metals called iron and molybdenum. It is used in various industries because of its helpful properties. This powder is known for making things stronger and more resistant to heat. Ferro molybdenum powder is also used in making stainless steel, which is a type of metal that doesn't easily rust or corrode. In summary, ferromolybdenum powder is a useful substance that adds strength and heat resistance to different materials, like steel.
Why do people love our Product?
People love our Ferro Molybdenum Powder because it makes their Products stronger. When they use this powder in their materials, it adds extra strength and durability, making their Products more reliable.
People appreciate that our Products can withstand high temperatures without getting damaged, ensuring longevity and safety.
Customers value the versatility of our Ferro Molybdenum Powder. It can be mixed with different materials to create various alloys, allowing people to customize their Products according to specific needs and requirements.
We are the most careful Ferro Molybdenum Powder Exporters and Suppliers in India, The popularity of our Ferro Molybdenum Powder is further enhanced by its contribution to the Production of stainless steel. People appreciate that this powder helps create stainless steel, a widely used metal known for its resistance to rust and corrosion, making it a preferred choice for many applications.

Typical Specifications:
Mo 60-65%
C 0.10-0.05% Max
Si 1.5% Max
P 0.05% Max
S 0.05% Max
Cu 0.50% Max