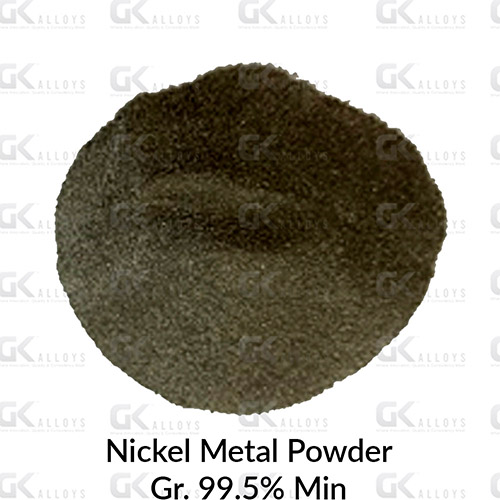 With sincerity and hard work of experts, we are betrothed in rendering an exclusive range of Nickel Metal Powder. It is mainly formulated with optimal quality of compounds to followed various industrial quality standards. Additionally, provided powder is useful in pigments, chromium, alloy Products, batteries and others. Nickel Metal Powder is hard to merged in sulphuric acid and easily soluble in nitric acid. It offers corrosion protection, wear resistance as well as lustre finishing.
G K Min Met Alloys Co is the most balanced Nickel Metal Powder Manufacturers in Vadodara. Nickel powder enhances metal conductivity, corrosion resistance, and hardness. It is utilized in sintering, battery manufacturing, electromagnetic shielding, powder metallurgy, and as a metal binder. This powder was developed specifically for the powder metallurgy sector. It is used to increase the hardness of hard metals and to improve corrosion resistance. Under normal usage conditions, nickel powder is a stable substance. Nickel should be kept in a cool, well-ventilated, dry, and closed location that is free of any specific hazardous restrictions.
We are the most Affordable Nickel Metal Powder in Gujarat. We sell nickel metal powder which is of high quality and also at very affordable rates. You don't have to worry about the quality of the Product. The Product would be delivered on time to your door. We use an express delivery process you don't need to hassle. making it easy for you in every way possible. As we value our customers a lot we make sure that they don't face any trouble with anything.
We are the most dependable Nickel Metal Powder Exporters and Suppliers in India. With a strong track record of satisfied customers, we have earned a reputation for reliability and trustworthiness in the industry. Our dedicated support team is always ready to assist you, providing quick and helpful solutions to any queries or concerns. We offer competitive prices without compromising on quality, giving you great value for your money.
Typical Specification:
Applications:
It is used as a catalyst for hydrogenating oils.
Used to manufacture Aircraft turbine components, thermometer bulbs & resistance thermometers.
Glass to metal & ceramic to metal seals & also used in controlled expansion nickel super alloys.
High purity Nickel is also used in electronic & aerospace applications, chemical processing equipments, used in anodes & cathodes & heat shield.
Used in making Nickel-Cadmium batteries & Nickel-Metal hydride base batteries.

Packing: Double Liner HDPE Bags/Steel Drums for Exports.