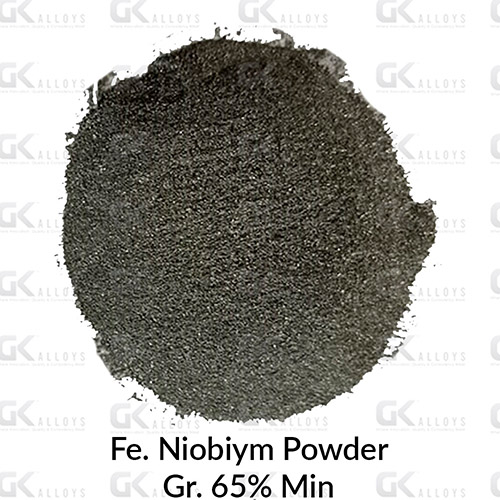 We have acknowledged in presenting a wide array of Ferro Niobium Powder. It is useful in vacuum grade materials and other commercial applications. This powder is suitable in automotive, construction and other industries. Moreover, proposed powder is main work is to give better performance and balance the strength. Ferro Niobium Powder is resistant to weather and rust barrier. It is also effective to be utilized in jet engines, girders as well as oil rigs.

G K Min Met Alloys Co is the most intelligent Ferro Niobium Powder Manufacturers in Vadodara. We are proud to deliver a diverse range of Ferro Niobium Powder. It is useful in vacuum-grade materials as well as other commercial uses. This powder is excellent for use in automotive, construction, and other industries. Furthermore, the recommended powder's major work is to improve performance and balance strength. Ferro Niobum Powder is weather resistant and has a rust barrier. It is also effective in jet engines, girders, and oil rigs.
We are known as the most eco-conscious Ferro Niobium Powder in Gujarat. Our powder can be easily mixed with other materials to create alloys that have even more impressive qualities. By combining it with other metals, you can enhance their strength, resistance to corrosion, and even their ability to conduct electricity. This makes our powder a fantastic choice for industries such as aerospace, automotive, and electronics.
Choose the most reliable Ferro Niobium Powder Exporters and Suppliers in India. Ferro Niobium Powder is a strong and versatile material that offers numerous benefits. With its exceptional strength and the ability to form alloys with other metals, it is highly sought after in various industries. By choosing us, you can rest assured that you're getting a high-quality Product and excellent customer service. We believe in building long-lasting relationships with our customers and providing exceptional support throughout your journey with our Product.

Typical Specifications:
Nb - 60% Min & 65% Min
C - 0.10% Max
Si - 2% Max
S & P - 0.05% Max

Applications:
Ferro Niobium is used in vacuum grade Products for super alloys applications such as land based & aircraft engine turbo fins & blades.
Ferro Niobium is also used in alloying process of HSLA steel which is inturn used in automobiles, construction cranes, rides of amusement parks & other structures which require high strength steel giving a better balance between strength to weight ratio.
It is also used in Nuclear fusion reactor construction & many parts in aircraft also.

Packing: Double Liner HDPE Bags/Steel Drums for Exports.