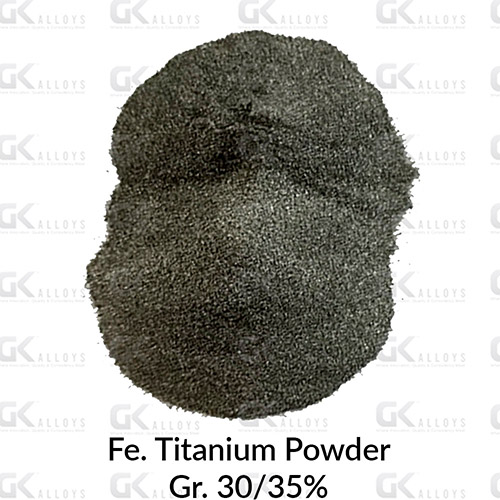 Ferro Titanium Powder is mainly useful in fire working as well as welding electrode applications. This powder is a cleaning agent which reacts with carbon, nitrogen and sulphur. It acts as a deoxidizing and desulfurization process. Ferro Titanium Powder is basically procured from the certified vendors of the market. It is suitable in stainless steel production unit. It is safely comes in HDPE bags or robust steel containers to prevent from dust particles during transit.

G K Min Met Alloys Co is the most potent Ferro Titanium Powder Manufacturers in Vadodara. Ferro titanium powder is primarily used in firefighting and welding electrode applications. This powder functions as a cleaning agent by reacting with carbon, nitrogen, and sulfur. It deoxidizes and desulfurizes the environment. Ferro titanium powder is mostly obtained from market-certified providers. It is appropriate for use in a stainless steel manufacturing plant. To prevent dust particles during shipment, it is safely packaged in HDPE bags or strong steel containers.
Here are some reasons why you should choose and why people loved our Product:
We understand the importance of meeting deadlines and ensuring the timely delivery of our Products/services.
Many satisfied customers have benefited from our offerings, showcasing our proven track record of success.
We offer competitive pricing, ensuring that customers receive excellent value for their money.
Our dedicated support team is always available to assist customers, offering reliable and timely assistance.
Our company has built a strong reputation for professionalism, integrity, and reliability.
We are the most Trustworthy Ferro Titanium Powder Exporters and Suppliers in India. So believe and trust us for once, we will never make you feel disappointed. Our Products are worth every penny. So don't wait! Just go and grab the Product before it gets out of stock. Choose us if you need good quality Ferro Titanium Powder

Typical Specifications:
Ti 30-35% Grade, Ti 40-45% Grade & Ti 70-75% Grade
C 0.10-0.20% Max
Si 1-2% Max
S 0.05% Max
P 0.05% Max
Al 5-7.5%

Applications:
Ferro Titanium is used in manufacturing of welding electrodes & also in fireworks applications.
It is also used as a cleansing agent in Production of steel as it reacts with Sulphur, Carbon, and Oxygen & Nitrogen.
It is also used for deoxidizing, desulfurization and denitrification.

Packing: Double Liner HDPE Bags/Steel Drums for Exports.