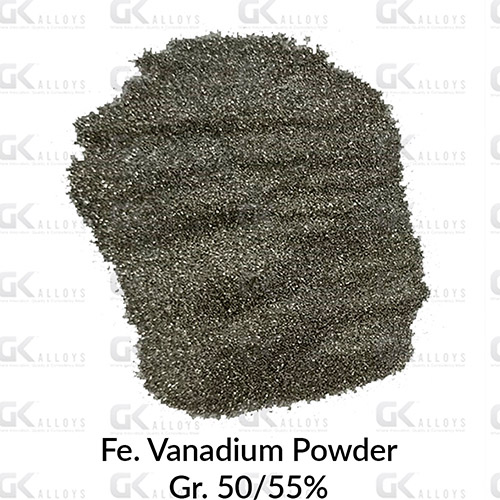 We are able to supply a broad array of Ferro Vanadium Powder in a bulk quantity to our clients. This powder is suitable in stainless steel Production unit. Moreover, provided powder is used as an additive as to improve the unmatched quality of ferrous alloy element. It improves the tensile strength of material. Ferro Vanadium Powder is helpful to control the size of the steel. It is helpful to increase the hardness and extreme strength of the steel.

G K Min Met Alloys Co is the most optimal Ferro Vanadium Powder Manufacturers in Vadodara. Ferro vanadium is an alloy composed of iron and vanadium with a vanadium concentration ranging from 35% to 85%. Ferro Vanadium is a universal hardener, strengthener, and anti-corrosive addition for steels such as high-strength low-alloy (HSLA) steel, tool steels, and other ferrous-based materials. Our Ferro Vanadium Powder is renowned for its ability to enhance the strength and toughness of materials. Our Ferro Vanadium Powder offers enhanced strength, high heat resistance, and excellent corrosion resistance.
Customers appreciate our Ferro Vanadium Powder for its exceptional heat resistance. It enables materials to withstand elevated temperatures without losing their structural integrity.
Choosing our Ferro Vanadium Powder ensures that your Products remain highly resistant to corrosion and oxidation. This property is especially crucial in environments where exposure to moisture or chemicals can lead to deterioration.
We take pride in providing Ferro Vanadium Powder of the highest quality. Our manufacturing process ensures strict adherence to industry standards and consistent Product excellence.
You can trust that our powder will deliver exceptional performance and meet your specific requirements.
We are the most experienced Ferro Vanadium Powder Exporters and Suppliers in India. With years of expertise in the field, we have developed a deep understanding of the nuances of Ferro Vanadium Powder. Our team of experts is well-versed in the Production and application of this powder, allowing us to provide valuable insights and technical support to our customers.

Typical Specifications:
V - 50-55% & 75-80%
C - 0.10% Max
Si - 1% Max
S & P - 0.050% Max

Applications:
Ferro Vanadium is mostly used as additive in steel making which provides Rust resistance to steel.
It is also used in high-speed tools, springs & as stabilizing agents to steel making.
Some of the compounds of Vanadium are used in ceramic industry, printing & dying industry.
It is also used in welding electrodes.

Packing: Double Liner HDPE Bags/Steel Drums for Exports.