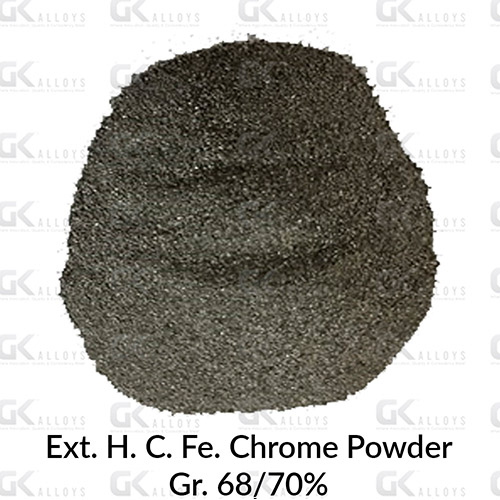 Being a recognized firm, we are providing an extensive range of High Carbon Ferro Chrome Powder. It is cherished for its accurate composition and smooth texture. This power contains great chemical properties. It is processed with the help of techniques and experts for making this powder. High Carbon Ferro Chrome Powder is used allowing elements in steel. It is resistant to oxidation and corrosion. It promotes the retention of strength levels in adverse temperature conditions.

G K Min Met Alloys Co is the most innovative High Carbon Ferro Chrome Powder Manufacturers in Vadodara. Our high-carbon Ferro Chrome Powder is the result of tireless dedication and years of expertise. We have painstakingly refined the alchemist's formula, imbuing our powder with unparalleled strength and resilience. Its unique composition, blending iron, chromium, and carbon, sets it apart as a true champion in the world of metallurgy. The magic of our high-carbon Ferro Chrome Powder lies in its astonishing versatility. Its ability to fortify structures, enhance durability, and withstand extreme conditions has made it an indispensable ingredient in the quest for excellence.
We have emerged as the most sustainable High Carbon Ferro Chrome Powder in Gujarat. Our high-carbon Ferro Chrome Powder has emerged as a beacon of eco-conscious innovation. By extending the lifespan of materials and minimizing waste through enhanced corrosion and heat resistance, our Product plays a vital role in forging a sustainable future. It is no wonder that environmentally conscious individuals and organizations alike have embraced our powder with open arms.
We are the most eco-friendly High Carbon Ferro Chrome Powder Exporters and Suppliers in India. People worldwide have fallen deeply in love with our high-carbon Ferro Chrome Powder and for good reason. Its transformative capabilities have unleashed a wave of innovation, enabling engineers, visionaries, and forward-thinkers to push boundaries and achieve unprecedented feats. Its steadfast commitment to excellence resonates with those who aspire to make a lasting impact on the world.
Typical Specifications:
Imported:
Grade 1
Cr 68% Min Si 1% Max C 8% Min
P 0.03% Max
S 0.02% Max

Applications:
Vast Majority of Ferro Chrome produced is in form or charge chrome which has lower ratio of Cr:C & hence mostly used in stainless steel Production.
Chrome also is used since it provided the highly corrosion resistance property to steel.
High Carbon Ferro Chrome or Extra HC Ferro Chrome powder is also used in manufacturing of Hard facing Electrodes, Wear Resistant Plates, and Tubular Electrodes & Flux Core wires.

Packing: Double Liner HDPE Bags/Steel Drums for Exports.