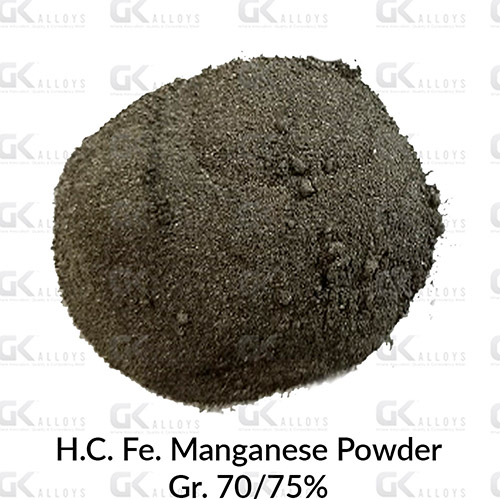 We are highly esteemed in dealing a better range of High Carbon Ferro Manganese Powder. It is used as an allowing element and contain a high percentage of carbon. This powder is suitable in stainless steel manufacture unit. Other than that, provided powder is easily mixed with carbon coal and other constituents. High Carbon Ferro Manganese Powder combines with sulphur and acts as a deoxidizer. It improves the working properties and increase the strength of Products.

G K Min Met Alloys Co is the most Productive High Carbon Ferro Manganese Powder Manufacturers in Vadodara. Are you looking for a reliable and efficient source of high-carbon ferro Manganese Powder? Our high-carbon Ferro Manganese Powder is a metal alloy composed of iron and manganese. It is used in a variety of applications, including automotive, aerospace, welding, construction, and military applications. It is an essential component in the Production of high-quality steel and other alloys.
We are the most performing High Carbon Ferro Manganese Powder in Gujarat, Our high-carbon Ferro Manganese Powder provides several benefits. It increases the strength and hardness of steel and other alloys, while also providing superior corrosion resistance. It also improves the machinability of steel and other alloys, making them easier to shape and form. This makes it the perfect choice for applications that require high-performance alloys. The price rate is also suitable for everyone. We always try to provide the best quality Products at affordable prices so that everyone can enjoy the benefits.
When it comes to the most Superior High Carbon Ferro Manganese Powder Exporters and Suppliers in India, we are the top choice. In addition to its strength and hardness, high-carbon ferromanganese powder also has excellent ductility and toughness. This makes it ideal for applications that require materials with a high level of flexibility. The material is also resistant to wear and abrasion, making it suitable for industrial and manufacturing processes. Do you require assistance in locating the best Product for your requirements? Contact us immediately and let us assist you in finding the ideal solution.

Typical Specifications:
Mn 70-75% grade & 75-80% grade
C 6-8%
Si 1.50-2%
P 0.30% Max S 0.02% Max

Applications:
Used in steel making & is also used as foundry additive.
Is also used as alloying element since it is the most cost effective alloying element thus adding some key benefits like strength, toughness, hardness & makes steel; resistant to abrasion.
Used in welding rods.

Packing: Double Liner HDPE Bags/Steel Drums for Exports.