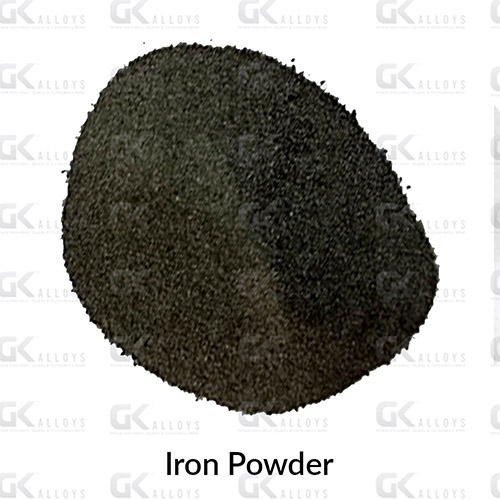 Backed with well-developed Production facilities, we are providing an excellent range of Iron Powder. It is processed with qualitative compounds and another additive. Apart from this, provided powder ensures high reactivity and purity. This powder is mainly useful for bearings, machine parts and wear resistance parts. Iron Powder is a uniform filler substance as to complete the specific task in engineering sectors. It is helpful for making magnetic paints and commercial needs.

G K Min Met Alloys Co are the most harmonious Iron Powder Manufacturers in Vadodara. Our Iron Powder is quite a standout Product, treasured among many diverse industries. It's finely milled from iron, and it's remarkable how such a simple powder can do so much! Our iron powder helps make magnetic cores for transformers. It's behind the smooth transfer of power that makes our daily lives tick. Iron powder is produced in a variety of grades, with each powder Product classed based on purity, density, particle size, and Production process.
Why are we the best?
Our iron powder is of the highest grade. We ensure it exceeds industry standards. Nothing less gets past our quality controls.
No matter the industry - construction, agriculture, food, or electronics - our iron powder suits the task.
when you choose us, you're not just getting iron powder. You're gaining a reliable partner for your needs.
We prioritize safety above all. Our iron powder comes with strict usage instructions to ensure that it's handled without any harm.

We stand out as the most versatile Iron Powder Exporters and Suppliers in India. So, to summarize, our iron powder is a truly widespread Product with many uses. It's part of the reason why structures stand tall, plants grow lush, foods nourish, and power flows smoothly. To all who appreciate quality, performance, and safety, our iron powder proves to be a preferred choice.

Typical Specification:
Applications:
Iron powder has vide uses which include as placement in brake pads to use it as friction agent, drum brake lining to create friction that is necessary for stopping of a moving vehicle.
It is also used in making of soft magnetic composites often used in electromagnetic applications.
Iron powder is also used to create a tight seal between components when joining parts via brazing technique.
It is used in printing applications such as black & white printers, colour printers wherein toners are used.
Its used also include in dyes, paints, oil filtration, chemical applications.

Packing: Double Liner HDPE Bags/Steel Drums for Exports.