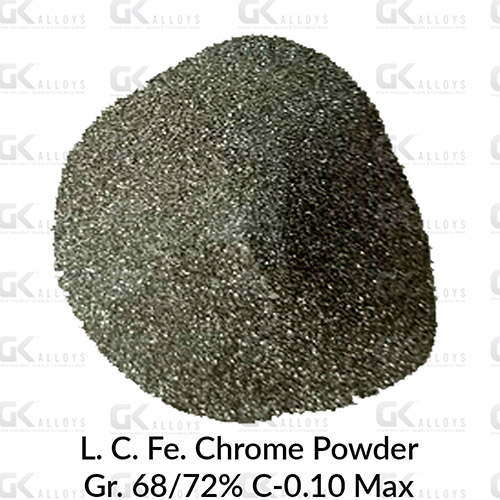 We are acclaimed in dealing a best range of Low Carbon Ferro Chrome Powder. It processed with the proper guidance of talented experts and machinery. This powder is cherished by our clients for its accurate composition and pure texture. In addition to this, provided powder is mainly useful in the Production of stainless steel sectors. It is available in various grades. Low Carbon Ferro Chrome Powder is suitable in stick electrodes as well as welding electrodes.

G K Min Met Alloys Co is known for being the Robust Low Carbon Ferro Chrome Powder Manufacturers in Vadodara. The charm of our Low Carbon Ferro Chrome Powder lies in its unparalleled versatility. It finds its place in a myriad of applications, including the automotive, aerospace, and electronics industries, where its impact is transformative. From enhancing the strength of alloys to improving corrosion resistance, this powder unlocks a world of possibilities for engineers and innovators alike. Also, the main thing about us is that we don't compromise on quality.
We are known as the best and the most lucrative Low Carbon Ferro Chrome Powder in Gujarat. At a time when sustainability is essential, our Low Carbon Ferro Chrome Powder stands as proof of our commitment to a greener future. By reducing carbon emissions and promoting energy efficiency, our Product becomes a catalyst for sustainable practices. Individuals and industries with an unwavering dedication to eco-consciousness are drawn to our powder, recognizing it as a key ingredient in their journey toward a more sustainable world. Make it available everywhere so that everyone gets to enjoy the benefits of our Product.
Opt for the most Proactive Low Carbon Ferro Chrome Powder Exporters and Suppliers in India. Choosing our low-carbon Ferro Chrome Powder means selecting a partner committed to excellence. We pride ourselves on delivering unparalleled quality, ensuring that our Product consistently exceeds expectations. Moreover, our dedication extends beyond the Product itself. Our team of experts is readily available to provide support, technical assistance, and collaborative problem-solving, nurturing a deep bond with our customers.

Typical Specifications:
Cr 68-72%
Si 1.5% Max
C 0.10% Max
P 0.02% Max
S 0.002% Max

Applications:
Chromium imparts oxidation resistance, impairs corrosion, improves wear resistance & helps steel retain its strength at high temperatures.
Chromium alloys are also used in many grades of stainless steel grades.
It is also used in making of Cr steel tools, super alloys, & also specialty metals.
A price of Ferro Chrome is mainly determined on the percentage of Carbon & Silicon & is added in final chemistry adjustments in Production of stainless steel.
Low Carbon Ferro Chrome powder is also added in Production of welding electrodes mainly Hard Facing Electrodes & specialty electrodes.

Packing: Double Liner HDPE Bags/Steel Drums for Exports.