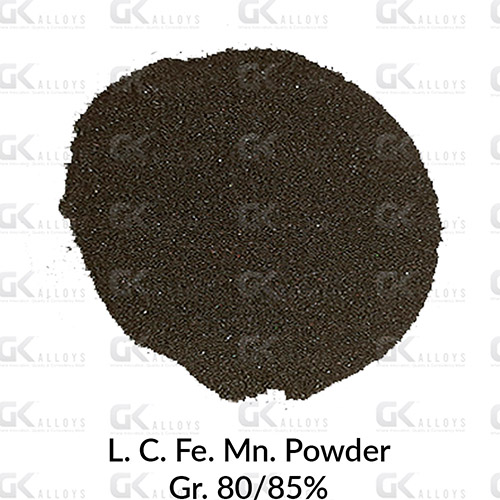 Our company deals in the manufacturing, supplying and exporting of top-quality Manganese Metal Powder which is used in the metal hardening applications. It is produced by using naturally obtained earthy compounds with a high purity level. It can also be used for the Production of colorants, fuel additives, pigments, welding fluxes, batteries, non-steel alloys and circuit boards. It can be stored at room temperature and has an excellent shelf life of 5 years.

G K Min Met Alloys Co is the most dynamic Manganese Metal Powder Manufacturers in Vadodara. Manganese metal powder is an appealing Product. Coming from manganese, a brilliant chemical element, this powder has become a valuable ingredient in many applications. Its greyish hue undoubtedly makes it a sight to behold. A notable use of this powder is in enriching the robustness of steel. Steel Products mixed with manganese perform better and last significantly longer.
Our company stands out as the most exquisite Manganese Metal Powder in Gujarat. So, our manganese metal powder is amazingly diverse. It strengthens steel, powers batteries, fortifies plastic, clarifies glass, and even aids other metals. Merely by using this unique powder, Products in numerous parts boost their performance and quality. Our Manganese Metal Powder is an amazing asset to many industries and it's no surprise that folks have come to trust and admire it. Our Manganese Metal Powder is also a part of the clear glass you love in your windows, automobiles, or pretty ornaments.
We are the main and the most synergistic Manganese Metal Powder Exporters and Suppliers in India. Our Product reaches everywhere. It's loved for these reasons. While enjoying its benefits, also remember to handle it safely. Our Manganese Metal Powder truly encompasses utility, diversity, and undeniably, the love of people who appreciate quality. It's not just a Product, it's a trust that binds us with our customers. So why wait? Just go and grab the Product before it goes out of stock.

Typical Specifications: