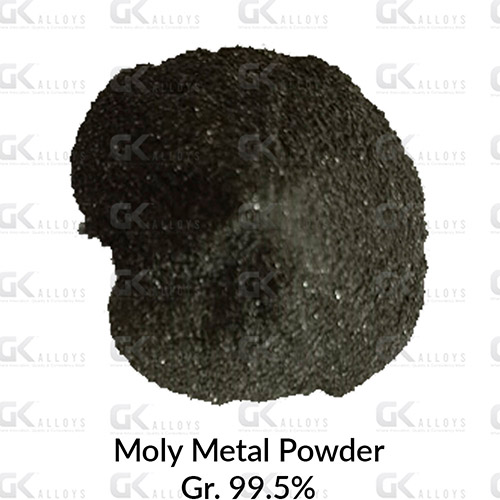 We are instrumental in rendering a superior range of Molybdenum Metal Powder. It is available in many sizes of packaging options. This powder is free from any sort of contaminants and harmful impurities. Apart from this, provided powder ensures a long shelf life. It is used in the Production of hydrogen reduction purpose. Molybdenum Metal Powder is also effective to lower down the oxides in metal powder. It is easily soluble and doesnt give any reactants.

G K Min Met Alloys Co is the most transformative Pure Molybdenum Powder Manufacturers in Vadodara. Our Pure Molybdenum Powder is a star Product that is highly valued in many industries. This powder, with its charming grey-to-black hue, is derived from molybdenum, one of the critical components of high-strength alloy metals. In the demanding world of metals, they play a central role in forming hard, heat-tolerant alloys. It's a true hero in industrial Products that require strength and heat resistance, ensuring safety and reliability.

Why select us?
Our Pure Molybdenum Powder is also a big hit in the electrical industry. It's high electrical conductivity and thermal stability make it a key element in manufacturing electrical contacts and vacuum tubes.
Another fascinating application awaits in the lubricant industry. Mixed within greases and oils, molybdenum reduces friction and wear, thus improving the smooth functioning of machines. It's not so visible, but its impact is vast.
Our pure molybdenum powder is diverse and far-reaching. from strengthening alloys to greasing machines, powering electronics to refining fuels, etc.
We are the mass Pure Molybdenum Powder Exporters and Suppliers in India. Customers who understand its potential have truly come to rely on and love our Product. However, like all things powerful, we always remind its handlers to treat it with proper respect and safety precautions. That wonderful powder holds the transformative power it shares with the world.

Typical Specification:
Purity: 99.50% Min

Applications:
Molybdenum metal is one of the top ten metals with highest melting point, it also retains strength & stability at a very high melting point of about 1900 degrees Celsius.

Halogen lamps mostly found in automotive headlights are one examples of use of Molybdenum metal in lighting industry.

It is also used to make glass-to-steel seals since it has very good bonding with silica glass.

Molybdenum is also used in making of glass due to its high-temperature resistance & fabric ability & its compatibility with glass components. It is ideal for glass melting electrodes, molten glass stirrers & high temperature furnace shields.

One of the uses also includes in electronic & semi conductor applications.

Packing: Double Liner HDPE Bags/Steel Drums for Exports.